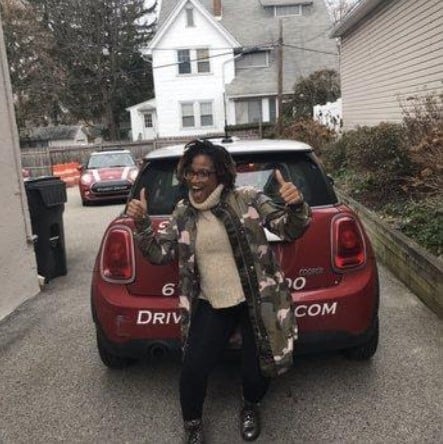 After getting your permit and devoting many hours to driving practice, passing your road test is the last step to achieve your PA driver's license. Unfortunately, many students report feeling stressed about this part of the process. They worry they'll have to wait weeks or even months to take their Delaware County driving test, and when they finally do, it will be an unpleasant experience. Luckily, these concerns need not apply when you choose to test with Driven2Drive. 
Unlike the DMV, we won't keep you waiting around – our dedicated staff will get you scheduled as quickly as possible, typically in just a few days! You'll take your test in our MINI Cooper at one of our six convenient locations, and our friendly bilingual examiners will make sure you feel at ease throughout the process.
Why Complete Your Delaware County Driving Test with Us?
As the saying goes, a satisfied customer is the best kind of advertising there is. For us, this isn't just a slogan – making our customers happy is foremost in our mission, alongside helping them develop lifelong safe driving skills & confidence behind the wheel. Here are a few reviews we've received from students who have come to us for their Delaware County driving test:
"I took my driver's exam today. I can't begin to tell you how thankful I am for choosing this school. All the drivers are patient, kind and knowledgeable. Sam gave great tips on how to nail parallel parking, and John was absolutely amazing at bringing everything together for me. I passed on my first try! Thank you, Driven2Drive!!!!!" -Shantell T.
"I wish I went here before I went to the DMV. The lady at the front desk was great while checking me in. The instructor was awesome in making me feel comfortable in the car and during the test. I would highly recommend Driven2Drive. Worth the money." -Katrina G.
"This place has great customer service and great appointment scheduling. You're able to get a road test within a week's time of calling. Way better than PennDOT's time. The instructors are awesome. I took the 2-hour refresher course plus the road test and passed. I recommend this place to my family members when they're ready to get their license." -Alycia B.
Schedule Your Delaware County Driving Test Today!
Are you eager to cross "get licensed" off your 2020 to-do list? Driven2Drive is here to help you succeed! To get scheduled promptly for your road test or driving lessons at one of our six locations throughout Philly, Chester, Montgomery & Delaware Counties, call us today at 610-664-7400.