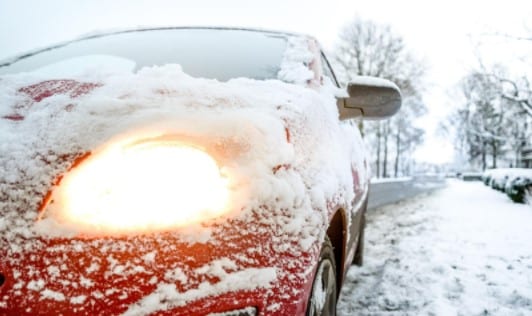 For even the most experienced drivers, navigating snowy roads requires extreme focus and caution. So, it's no wonder why many students find driving in snow for the first time to be a rather nerve-racking experience. To make this milestone less daunting, Driven2Drive is here to give some pointers for driving in wintry precipitation. If you're seeking one-on-one driving lessons to help you master safe driving in all types of conditions, call us at 610-664-7400 to get scheduled at one of our six locations throughout the Greater Philly area!
Driving in Snow for the First Time? What to Know
If you'll be driving in snow for the first time this winter, here are a few crucial tips to follow:
Keep extra distance from other cars – Increasing your following distance will greatly reduce your risk of being involved in a snowy day roadway incident. In addition to slowing your speed, keeping a following distance of at least 7-8 seconds behind other vehicles is advisable to allow sufficient time & space to stop on slippery roads.
If you start to slide, steer into the skid – Losing control of your vehicle is among the greatest worries when traveling on slick roads. Thus, knowing how to react in this common winter driving situation is key. If you begin to slide on snow or ice, the rule of thumb is to "steer into the skid." To do so, take your foot off the gas/brake, and turn your wheel in the direction that the back of your vehicle is skidding towards. As your vehicle corrects, you may need to turn your wheel in the opposite direction to get it back on your desired path.
Stay aware of other drivers – Beyond monitoring your own car, it's important to be conscious of what other vehicles around you are doing. Check your rearview mirror often, especially when adjusting your speed. Whenever possible, accelerate and decelerate gradually to prevent a rear-end collision. If you notice another car skidding close to your vehicle, consider steering to distance yourself from them – so long as you have enough space to safely do so.
As you venture out onto snowy roads as a new driver, using these techniques will help you maintain control of your vehicle and avoid accidents.
Become a Safe, Seasoned Driver with Our Friendly, Certified Instructors
Are you looking to sharpen your driving skills this season? Or, perhaps you are on a mission to get your license in 2021. Either way, Driven2Drive is here to help you reach your goals! From in-depth driving lessons to convenient, PennDOT-certified license testing, we provide a comprehensive range of services for new drivers. To pinpoint our closest location to you, call our top-rated Philadelphia area driving school & third-party testing center today at 610-664-740.