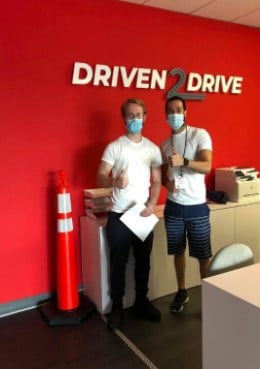 With the right teacher, learning to drive can be a fun, interactive experience – as it should be! But sadly, many students put off getting their license for fear that the process will be a nerve-racking ordeal. To settle these worries, Driven2Drive goes above and beyond to offer stress-free driving lessons & license testing services that are as enjoyable as they are educational. If you're a Philadelphia area student driver seeking out the best PennDOT driver license center near me, your search is officially over now that you've found us! Curious about the unique experience we offer and how it puts us miles ahead of the DMV in our students' eyes? Read on to learn more!
PennDOT Driver License Center Near Me: Why Students Prefer Driven2Drive
Approved by AAA, PennDOT and the hundreds of students who have come to us, Driven2Drive is proud to be the premier driving school & third-party road test provider serving Greater Philadelphia & the Main Line. To help our students become skilled, well-prepared drivers, we offer a fun & interactive classroom on wheels in our state-of-the-art MINI Coopers. Throughout every driving course and license testing session, our certified instructors & examiners are committed to upholding the highest level of customer service, objectivity and safety at all times.
Want more evidence that speaks to why Driven2Drive is the ideal choice for those seeking a PennDOT driver license center near me, in Philly or the surrounding counties? Have a look at these testimonials:
"All staff was courteous, respectful and knowledgeable. Instructor did an amazing job with my daughter. Would definitely recommend them to anyone." -Brad R.
"What a great place to test for your license. The appointments were easy to book without the extended wait time of the DMV, and the MINI was a pleasure to drive. Will definitely be referring my friends." -Natalie P.
"Had a very good experience here. Everyone was super nice and very helpful. I highly recommend coming to this place. I called and they got me right in for my test." – Seth L.
Take the Express Route to Becoming a Licensed Safe Driver: Choose Driven2Drive!
Want to avoid the unpredictable wait times and general inconvenience of the DMV? Offering the fastest & most flexible scheduling around, Driven2Drive is your best bet to get your license quickly, with absolutely no stress involved! Whenever you feel ready to take your PA road test with one of our friendly bilingual team members, give us a call at 610-664-7400. We typically have appointments available in as little as two days, so you can unlock your independence without delay!