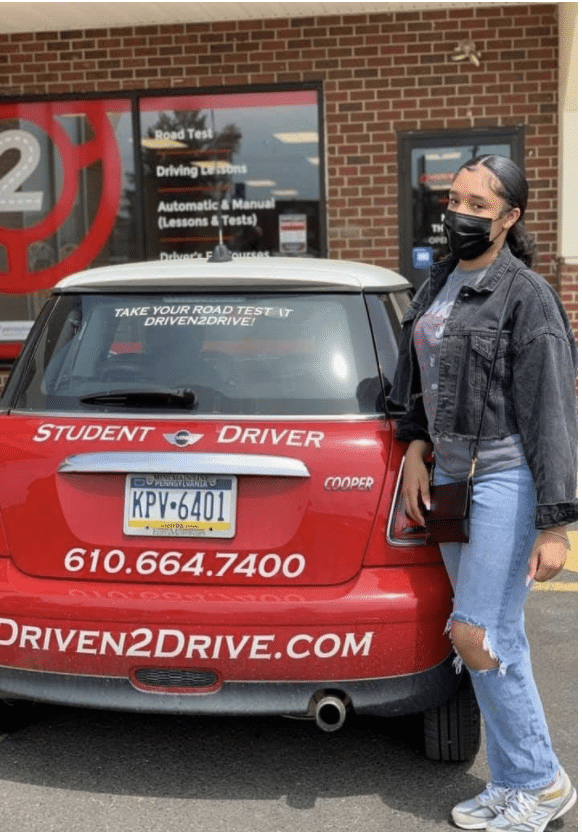 When gearing up for the PA road test, many student drivers seek out private driving practice to help them build their skills and confidence. At Driven2Drive, our certified driving instructors offer one-on-one lessons at six convenient locations spaced throughout the Greater Philly region. Read on to learn more about our versatile offerings for all experience levels!
Where to Get Private Driving Practice
Naturally, the journey to getting licensed or achieving other driving goals will look a bit different for every student. That's why we have a range of packages to accommodate every skill level and driving objective! Our driver's ed services include:
Core Curriculum – This option is designed for beginners looking to get more acquainted with PA traffic laws and best practices for operating a vehicle. Through a series of three 2-hour lessons, one of our certified, bilingual instructors will teach you the fundamentals of safe driving in our classroom on wheels: our D2D MINI Cooper. If desired, you can add on a road test to be completed during your final private driving practice session.
Comprehensive Curriculum – Looking to get comfortable handling just about any driving situation imaginable? These in-depth courses go beyond the basics to help you become a seasoned, independent driver. Situations you'll gain experience handling include: driving at night, in adverse conditions, on highways/expressways, in urban settings and more. Depending on the package you select, you'll spend up to 20 hours behind the wheel, with your road test included at the end of the course.
Extra Services – Want to learn how to drive a manual transmission vehicle, for personal or professional purposes? Or, maybe you're working towards an occupation that involves transporting passengers or cargo, and you need special training to ensure you're equipped for the job. In either case, Driven2Drive can help you get qualified with lessons on advanced driving techniques that will enhance your behind-the-wheel safety and skills.
Master Your Preferred Driving Style with Our Friendly Experts
Whether you're ready to learn the ropes of basic automatic driving, or you're looking to go the extra mile with manual or more advanced driving lessons, count on Driven2Drive to help you reach your goals! Give us a call at 610-664-7400 to get scheduled promptly (in as little as two days) for the driving course that best suits your needs and aspirations.