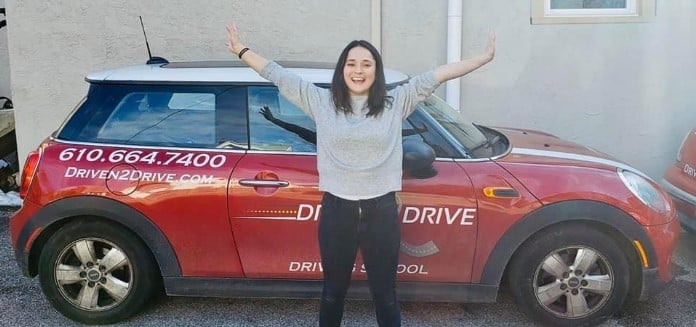 Rather than waiting potentially weeks or months to do your driver's test at your local DMV, why not take a quicker route? With third-party driving tests, you can cut down on wait time and complete your driver's test in an environment you might be more familiar with and comfortable with. How does it work?
Keep reading, we'll introduce you to third-party testing, how it works, and how you can get this as an option in Pennsylvania.
What Is a Third-Party Driving Test?
Third-party testers are companies that have been certified by PennDOT to administer the Class C non-commercial driving skills tests to anyone with a valid PA permit. This means that you can take the road test at a PennDOT-certified driving school rather than wait for an available appointment at the DMV. Driven2Drive is the first company to be certified by PennDOT as a Third Party License Testing Center, we have six locations and can get a road test scheduled in as little as two days.
For example, in Pennsylvania, there are certain driving schools that are certified as PennDOT Driver's License Centers where you can complete your driving test.
Why Third-Party Testing Centers Are Better for PA Road Tests
Leading up to the PA Road Test, students often feel anxious about visiting the DMV due to its reputation for long wait times, unfriendly examiners, and complicated procedures. However, there's a much easier and more convenient way to take your PA road test: Driven2Drive, a PennDOT-certified third-party license testing center with six convenient locations throughout Greater Philadelphia. Driven2Drive has a team of patient & friendly examiners and can get a road test scheduled in as little as two days.
How does a third-party driving test work? Read on to learn about how our student-focused staff simplifies the road test.
PennDOT Certified Third-Party Driver's License Testing Center
As a PennDOT Third-Party Testing Center, we are tasked with a responsibility and commitment to the safety of current and future motorists. Therefore, our unwavering approach to license testing is driven by the following principles: ethics & integrity, objectivity & fairness, and customer service.
What Is Third-Party Driving Test Like at Driven2Drive?
Upon finding out that there's an alternative way to take your PA license test, you might wonder: "What is a third-party driving test, exactly?" For the most part, the third-party driving test is exactly the same as a driving test at the DMV, the only difference being it's performed at a driving school instead. On the exam itself, you can still expect to demonstrate certain skills to your examiner, such as parallel parking, knowledge of vehicle controls, and other road skills.
Here are a few key things to know about taking your road test with Driven2Drive:
You'll complete your test in one of our state-of-the-art MINI Coopers & Teslas.
We have both manual & automatic transmission vehicles available.
We meet all PennDOT criteria and video/audio record every test for objectivity.
We can offer the Road Test in multiple languages (Spanish, French, Russian & Farsi)
Find more details on our website about how the road test is administered at Driven2Drive.
Why Do So Many Students Prefer & Recommend Driven2Drive?
At Driven2Drive, our devotion to customer service, student comfort and convenience puts us in a league of our own. We're proud to have received so many rave reviews from students who have come to us for driving lessons and/or permit/license testing. To give you an example, here's a testimonial from Shantell T.:
"I took my driver's exam today, and I can't begin to tell you how thankful I am for choosing this school. All the staff members are patient, kind, and knowledgeable. Sam gave great tips on how to nail parallel parking, and John was absolutely amazing at bringing everything together for me. I passed on my first try! Thank you, Driven2Drive!"
Get Scheduled for Your 3rd Party Driving Test in as Little as Two Days
Eager to gain independence and unlock new opportunities by becoming a licensed PA driver? Our team is here to help you ace your road test! Enroll in driving lessons with one of our friendly, bilingual instructors, or go straight to your license exam if you're already feeling confident and well-prepared. Either way, we'll get you scheduled as soon as possible – simply call us at 610-664-7400 to book the driving services you need at your convenience!
FAQs
What is the third-party driver's test in PA?
The third-party driver's test is a regular driver's test that's performed at any driving school that's certified by PennDOT instead of at the DMV.
What type of road test do I need in Pennsylvania?
In Pennsylvania, you'll need to pass a road test to get your license. This is a standard road test that's completed after your knowledge exam and getting your learner's permit, where you'll be asked by an examiner to complete specific driving skills, like parallel parking and demonstrating a handle on basic vehicle controls.
Can I get my license without taking the road test in Pennsylvania?
You cannot get a valid driver's license in Pennsylvania without passing the road test.
Related Resources
PA Driver's License Types Explained
PennDOT Third Party Driver's License Test
Looking for a PennDOT Certified 3rd Party Testing Center?

Driven2Drive is a premier driving school and the leader in Driver's Education. From our dedicated team of instructors to our innovative state-of-the-art Driving & License Testing Centers, we are committed to instilling safe driving habits for life in a fun and interactive atmosphere. Experience the Driven2Drive difference at any of our conveniently located centers.