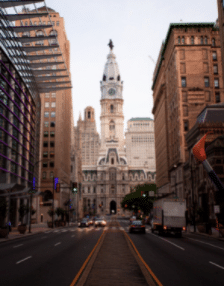 Philadelphia, PA is an iconic city with a rich history and plenty of sights to see. Perhaps you're planning to move to Philly for college or a job opportunity, or maybe you'll be visiting on occasion to experience all the bustling city has to offer. Either way, if you'll be driving in Philly, there are several things you should know about navigating the City of Brotherly Love by car.
Driven2Drive is here to share some tips that will help you drive safely and successfully in and around Philadelphia. If you'd like one-on-one instruction on how to master Philly driving, check out the driver's ed packages we offer at our six convenient locations throughout the area.
What You Need to Know About Driving in Philly
Certain aspects of driving in Philly can pose a unique challenge, even for experienced drivers. Luckily, when you know what to expect, you can prepare accordingly and avoid incidents. Here are a few crucial things to consider:
Rush Hour: With so many people commuting from the city to the Philly suburbs and vice versa, rush hour traffic is inevitable. According to recent reports, congestion tends to be the worst between the hours of 7-9:30 AM and 3:30-6 PM. During these times, backups are particularly common on Interstate 676 between I-95 and I-76, as well as between the PA Turnpike and I-95 on State Route 611. Keep this in mind, and be sure to leave extra time to get where you're going!
Changing Conditions: As a city in the northeastern US, Philly has a diverse climate and weather that can be unpredictable. Heavy rain is a possibility all year round, and temperatures can range from very low to very high depending on the season. Regardless of the forecast, it's key to keep your car well maintained with properly inflated tires. In the event of adverse weather, slow down and turn your headlights on to maximize your visibility and control over your vehicle. And don't forget to watch out for potholes!
Wildlife: Pennsylvania is known for its wide variety of critters. Both in and outside of the city (particularly on the PA Turnpike), keep your eyes peeled for wildlife on the road – especially when driving at night, dusk or dawn.
One-Way Streets: Philadelphia has quite a few one-way streets. These streets are typically more narrow than two-way roads, so it's very important to follow the signs and drive in the correct direction. FYI: According to PA law, motorists may turn left on a red light when turning from a one-way street onto another one-way street. But first, you must come to a complete stop, observe your surroundings and yield to any pedestrians or oncoming traffic, just as you would when turning right on red.
Become a Pro Philly Driver with Our Accredited Instructors
Ready to put your existing knowledge into practice and fine-tune your city driving skills with a friendly, experienced instructor? Check out the courses we offer in our Comprehensive Curriculum! They all include practicing city/urban driving and parallel parking, along with other fundamental behind-the-wheel skills.
To learn more about our various driving lesson packages and get our advice on the best one for your goals, give us a call at 610-664-7400. And don't forget – if you still need to take your PA road test, you can do so quickly and conveniently at any of our six testing centers, in as little as two days!