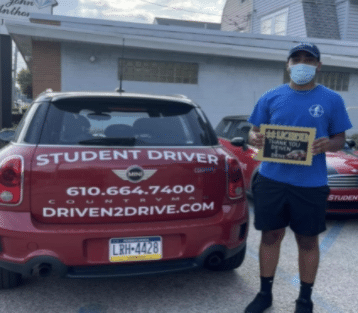 Leading up to their PA driving exam, students often feel anxious about visiting the DMV due to its reputation for long wait times and complicated procedures. But did you know?: There's a much easier and more convenient way to take your PA road test. You can visit Driven2Drive, a PennDOT-certified third-party license testing center with six convenient locations throughout Greater Philly! What is third party driving test and how does it work? Read on to learn about how our student-focused staff simplifies the road test.
What Is Third Party Driving Test Like at Driven2Drive?
Upon finding out that there's an alternative way to take your PA license test, you might wonder: "What is third party driving test, exactly?" Here are a few key things to know about taking your road test with Driven2Drive:
You'll complete your test in one of our state-of-the-art MINI Coopers.
We have both manual & automatic transmission vehicles available.
We meet all PennDOT criteria and video/audio record every test for objectivity.
Your test will be conducted in the parking lot on site at your chosen D2D center.
For the safety of our students & staff in the era of COVID-19, our examiners now stand outside of the vehicle during the road test.
You can find more details on our website about how the road test is administered at Driven2Drive.
Why Do So Many Students Prefer & Recommend Driven2Drive?
At Driven2Drive, our devotion to customer service, student comfort and convenience puts us in a league of our own. We're proud to have received so many rave reviews from students who have come to us for driving lessons and/or permit/license testing. To give you an example, here's a testimonial from Shantell T.:
"I took my driver's exam today, and I can't begin to tell you how thankful I am for choosing this school. All the staff members are patient, kind and knowledgeable. Sam gave great tips on how to nail parallel parking, and John was absolutely amazing at bringing everything together for me. I passed on my first try! Thank you, Driven2Drive!"
Get Scheduled for Your Road Test in As Little As Two Days
Eager to gain independence and unlock new opportunities by becoming a licensed PA driver? Our team is here to help you ace your road test! Enroll in driving lessons with one of our friendly, bilingual instructors, or go straight to your license exam if you're already feeling confident and well prepared. Either way, we'll get you scheduled as soon as possible – simply call us at 610-664-7400 to book the driving services you need at your convenience!