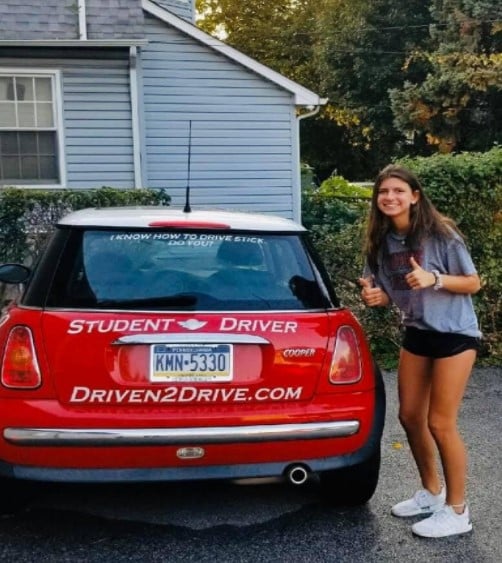 It's a fact of life that getting behind the wheel comes with certain risks. For instance, you can't control how other drivers behave. But what you can do is learn defensive driving techniques which will help you avoid collisions and stay safe on the road. At Driven2Drive, we firmly believe that every student should become a master of defensive driving before getting their license. This is why we emphasize defensive driving strategies in every single one of the fun, interactive and thorough driving courses we offer.
Defensive Driving Techniques: Simple Road Safety
What does it mean to drive defensively? Many students ask this question when they begin the journey of learning to drive. In short, defensive driving is a strategic approach which aims to manage roadway risks by keeping alert and acquiring the skills needed to respond effectively to hazards. Here are a few of the key defensive driving techniques Driven2Drive students learn:
Controlling speed with current conditions in mind
Maintaining a suitable following distance & knowing when to increase distance
Responding to aggressive drivers in a calm & safe manner
Scanning for pedestrians, cyclists and potential hazards on all sides of the vehicle
Anticipating the actions of other drivers
Taking steps to limit distracted driving
And much more
With Driven2Drive as your guide, there's no need to be apprehensive about getting behind the wheel. Our friendly and qualified instructors are here to coach you as you learn the rules of the road and practice defensive driving techniques.
What Are People Saying About Driven2Drive?
The qualified instructors at Driven2Drive take pride in making learning to drive a pleasant experience while putting a spotlight on safe driving. Take a look at what Cathy T. had to say about her family's experience with us:
"My son was a 'nervous' driver. He had renewed his permit, and the expiration was coming up. The new D2D location had opened in Horsham, and they worked quickly with me to get my son booked for his driving test. We took the Hybrid package that focused on the driving test. His instructor made him feel so at ease and gave him advice on his driving skills. My son passed his first time! Thank you, D2D."
Get On Your Way to Getting Licensed – Schedule Driving Lessons or Testing Today!
Eager to excel in the driver's seat? Count on Driven2Drive to set you up for success with fun, comprehensive driving lessons. And when you're ready to take your road test, our team will be happy to get you scheduled at one of our six PennDOT-certified locations – typically in just a few days!
To learn more about our course offerings and permit/license testing services, give us a call today at 610-664-7400. We look forward to driving with you!