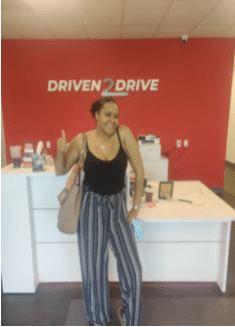 When learning to drive, it's extremely valuable to have a mentor who's well versed in how to properly operate a vehicle and follow local traffic laws. For best results, this person should be patient and invested in your success and future as a safe driver. Rated among the best driving schools in Upper Darby PA, Driven2Drive offers a team of friendly, accredited instructors who are dedicated to helping students learn the foundations of safe driving in a stress-free atmosphere. You can take private driving lessons and your PA road test at any of our six convenient locations throughout the Greater Philadelphia area.
Driving Schools in Upper Darby PA | Why Driven2Drive Ranks #1
At Driven2Drive, we care deeply about our students' safety, comfort and satisfaction. Here are a few testimonials which demonstrate our commitment to providing top-notch driving instruction in PA:
"I took my lesson and exam this morning. Brian was my instructor. He was patient, calm and reassuring. Thank you so much for helping me pass my driver's exam!!!" -Antoinette C.
"Excellent driving instructors – they helped me prepare for my test so well & I passed! They also have great prices. Thank you so much." -Maurice W.
"Great people – very polite and made my day with the service they provided me. Cheapest driving school I looked at and their place is very nice, not to mention the cars they have are brand new MINI Coops for easy parallel parking." -Joe C.
"Really can't say enough about how accommodating they were to get everything set up for lessons and the test in a very short time frame before [my son's] permit expired!" -Shoshi G.
Count On Driven2Drive for Hassle-Free, Student-Centered Driver's Ed & PA License Testing
If you've been comparing driving schools in Upper Darby PA in search of the best choice for yourself or your teen, your search is over! Driven2Drive provides every service needed to become a confident, competent driver and get licensed, including driving lessons tailored to students with varying experience levels & needs.
To learn more about our packages and schedule lessons or testing in as little as two days, call us today at 610-664-7400!