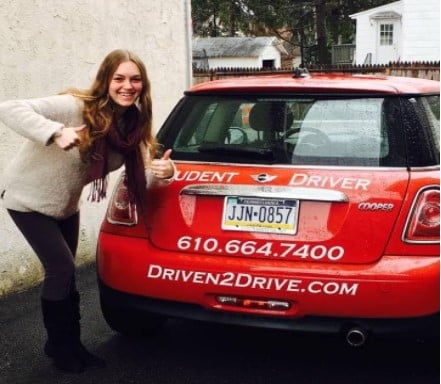 Turning 16 is a major milestone for any teenager. Among the most exciting parts of celebrating one's "sweet sixteen" is that this is the Pennsylvania permit age. On a student's 16th birthday, they become eligible to take the knowledge test required to receive their PA learner's permit – the ticket to start practicing driving with adult supervision. At Driven2Drive, we offer permit testing at our six PennDOT-certified testing centers. We also have a range of services designed to help students get ready to ace their permit test. Today, we'll walk you through the steps required to get your permit in PA, plus explain how we can help you on your quest to get licensed!
How to Get Your PA Driver's Permit
Obtain a PA Driver's Manual – This manual contains all the information you could possibly be tested on for the written permit test, so be sure to study it thoroughly! To request a FREE manual from Driven2Drive, visit us online or call us at 610-664-7400.
Prep for your permit test – To supplement your studying, you may wish to take a permit prep course. We offer an hour-long class that covers all the key driving concepts and gives you a chance to ask our friendly, knowledgeable instructors any questions you might have. We also have an in-depth Driver's Ed Theory Course available for students 15 & older!
Pass your test – Once you've reached the PA permit age of 16 and you feel confident you've mastered the material in the DMV manual, you can schedule your test with Driven2Drive at your convenience. On the day of your test, don't forget to bring along all the required forms and proof of identity.
Once you've received your initial learner's permit, you'll officially be qualified to get behind the wheel! To be eligible to take your license test, you'll need to complete 65 hours of adult-supervised driving practice. According to the DMV, your driving skills practice must include at least 10 hours of nighttime driving and 5 hours of driving in inclement weather, over a period of at least 6 months.
Driven2Drive Is the Student-Preferred Provider of Driving Lessons & Testing
Getting licensed is a process with many steps to complete along the way. No matter where in the journey you are, Driven2Drive is here to offer guidance and help you achieve your goals! To learn more about our services & get scheduled for a class or permit/license testing, call us today at 610-664-7400.