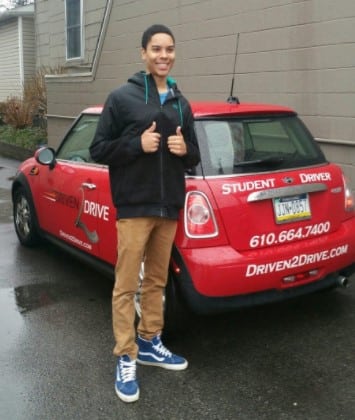 For many Philly area student drivers, getting licensed as soon as possible is a top priority. But, long DMV wait times of weeks or even months can get in the way of this objective. Fortunately, there is an option to take a third party driver's license test at Driven2Drive. Offering an expedited testing experience in a student-focused environment, Driven2Drive will work hard to get you scheduled for the soonest possible upcoming exam time – often within a few days! We offer the road test (administered on PennDOT-approved testing routes) at all six of our locations – Oaks, Horsham, Bala Cynwyd, West Chester, Brookhaven and NE Philadelphia.
Why Take Your PennDOT Third Party Driver's License Test at Driven2Drive?
Maybe you are ready to take your PA driving exam, or perhaps you would first like to enroll in a course on safe, effective driving to fine tune your skills and get more confident behind the wheel. In any case, Driven2Drive's patient, friendly staff will be here to guide you every step of the way!
In addition to testing, our accredited instructors also provide a variety of one-on-one drivers ed courses, including a permit prep class. Here's what Patricia M. had to say after her son came to Driven2Drive for lessons and his third party driver's license test:
"My son went to a few lessons and did his test with this company. He was nervous and they made him feel very comfortable. They were very nice and taught him a few things that would help him with his test. He felt much more confident after his lessons, and they were very patient with him during his lessons and on testing day. They were also COVID compliant. He had Shavar and Brian. I highly recommend this establishment!"
Schedule Hassle-Free Driving Lessons or Testing Today!
At Driven2Drive, we are dedicated to helping students of all ages & experience levels develop essential skills that set the stage for safe, self-assured and enjoyable driving – for life! To ensure that every student has the opportunity to get their license as quickly as possible, we have added extended testing hours and staffing to meet additional demand caused by pandemic-related DMV backlogs.
If you're ready to get on the road, our team is here to help you achieve your goal in a pleasant, convenient and stress-free manner. To learn more about our different drivers ed packages or get scheduled for your road test, give us a call today at 610-664-7400!