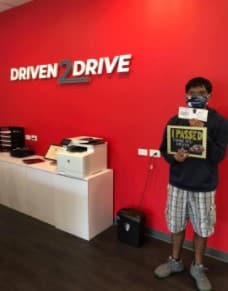 Just like mastering any new skill, learning to drive takes practice, time and patience. Once you've aced your permit test and put in the hours to learn & develop safe driving habits, your final mission is to pass your PA road test. As you gear up for this exciting last step to achieve your license, knowing what to expect on your driving test will help you feel fully prepared and calm any nervousness you may be feeling. In this article, we delve into what you can anticipate when you take your test at one of Driven2Drive's PennDOT-certified third-party license centers.
What to Expect on Your Driving Test in PA
Invested in our students' comfort & success, Driven2Drive goes the extra mile to make taking your road test a pleasant, stress-free experience. When you choose us as your license testing destination, you'll be matched with a friendly, accredited examiner. You'll take your road test in one of our state-of-the-art MINI Coopers – with manual or automatic transmission, depending on your preference.
Here are some specifics on what to expect on your driving test, in terms of the driving skills & techniques you'll be evaluated on:
Maintaining a safe, appropriate distance from the vehicle in front of you, given the current road conditions
Staying centered in your lane, while driving straight & turning
Following the proper procedures when changing lanes
Paying attention to your speed, always staying within posted limits
Stopping, slowing down and accelerating smoothly
Navigating different types of intersections, including traffic lights & four-way stops
Sharing the road with pedestrians & cyclists
Demonstrating mastery of parallel & perpendicular parking
While not a complete list of all the things your Driven2Drive examiner will assess, we've covered many of the major items on the PA driving test. Hopefully, this overview has given you valuable insight into how to know if you're ready for your road test!
Complete Your Road Test Quickly & Easily with Driven2Drive
Are you seeking the fastest and most convenient way to get your license in PA? Driven2Drive offers the ideal experience you're looking for! With testing time slots typically available in as little as two days, we work overtime to get our students scheduled as quickly as possible.
Our flexible scheduling – combined with our unwavering commitment to customer service – makes us the student-preferred destination for license testing in Greater Philly, Montgomery, Delaware & Chester Counties. To get scheduled at the Driven2Drive location closest to you, give us a call today at 610-664-7400!