Tesla cars are known for their advanced technology and innovative driving capabilities. The company's regenerative braking system is an impressive piece of technology that makes driving safer and more convenient. Regenerative braking is the process of recovering energy, which helps extend a car's range, an important aspect of any electric vehicle. This is done by converting kinetic energy into stored electrical energy in the car's battery.
In this article, we'll take a closer look at the Tesla regenerative braking system in more detail, including how it works, tips for using it, what to expect, and more.
What Is Regenerative Braking?
Regenerative braking, often referred to as regen, is a system in electric and hybrid vehicles. Unlike a traditional braking system, this system triggers a process that converts kinetic energy into electrical energy used to charge the car's battery. An electric motor in the vehicle works as a generator and converts momentum into energy while brakes are applied, which gets stored in the car's battery.
How Does Regenerative Braking Work in Electric Vehicles And Tesla Vehicles?
Regenerative braking explained | Tesla Model 3 Tutorial #12
Instead of using friction to slow the wheels down when braking, regenerative braking uses a different approach. The electric car's motor creates resistance which slows the vehicle down without the use of breaks and also acts as a generator to harness energy so that it's not lost in the braking process. The Tesla regenerative braking system gets activated when the driver lifts their foot off the accelerator. Regenerative braking will slow the vehicle down and convert the power to the Tesla's battery.
You can see how much energy a Tesla's regenerative system has stored by looking at the power meter on the car's Energy app. When the brakes generate energy, the battery will display how much power is being transferred back to the battery.
Learn how to use regenerative braking by booking a lessons package
5 Quick Tips for Driving with Regenerative Braking
Since it works slightly differently than a traditional braking system, there are a few things to be mindful of when driving a vehicle with regenerative braking. Here are a few tips to help you out.
1. Practice: Just like any driving skill, it can take a bit of time to get used to regenerative braking, so before longer driving trips, practice to get a feel for the system.
2. Get used to braking on quieter roads: Familiarize yourself with regenerative braking on quieter roads so you aren't distracted while trying to learn how the system affects your car.
3. Notice the outdoor temperatures and adjust accordingly: Regenerative braking can work differently when it's cold out. We'll cover more details on this soon.
4. Slowly let up pressure from the accelerator: Don't completely let up pressure on the accelerator and expect the regenerative braking to stop the vehicle. Let up gradually to allow the system to catch up and have enough time to react and pump the brakes manually if necessary.
5. Don't count on the stopping mode on hills: Regenerative braking is not designed to bring the car to a complete stop on hills, so make sure to remember to use your regular brakes when driving up or down hills.
What to Expect with Regenerative Braking
Rather than the jerkiness of traditional braking, regenerative braking feels a lot smoother. Some electric vehicle drivers have described the feeling as 'one pedal driving' since the effect of regenerative braking can feel like you've already stepped on the brakes as soon as you stop accelerating. The sensation feels more like coasting and slowing down rather than abruptly stopping.
What Conditions Can Affect Regenerative Braking in Teslas
While Tesla's regenerative braking is a very innovative technology, there are some factors that can influence its effectiveness. For example, the temperature can affect how well it works. If the car's battery is too cold, it won't be able to store as much energy from the regenerative braking system. Additionally, if the car's battery is already full, the energy has nowhere to go and won't get stored.
Changing Brakes for Teslas
Aside from extending an electric vehicle's range and cutting down on fuel costs, regenerative brakes can also cut down on maintenance costs. Since regenerative braking is triggered as soon as the accelerator is let up, this leads to using the brakes less. Over time, brake pads will actually last longer and require less frequent replacement.
How to Use Tesla Regenerative Braking to its Full Potential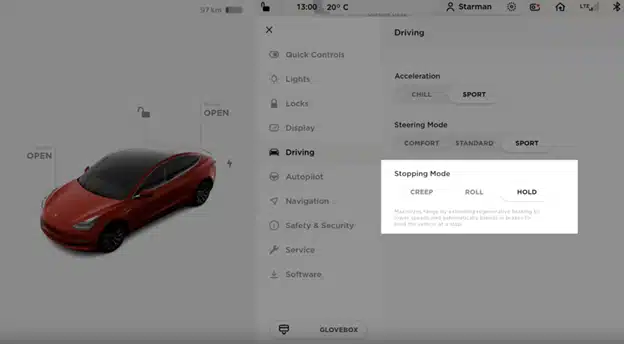 There are a few ways you can make the most of the Tesla regenerative braking system so that you extend your vehicle's range as much as possible. Here are some tips on using it to its full potential:
When going downhill, try to keep your foot off the accelerator to increase the energy stored in the battery
Brake gradually and avoid slamming on the brakes whenever possible
Coast as often as you can so that the regenerative brakes can add energy to the battery
Anticipate stops and decelerate early so that the brakes can capture more energy
Can You Turn Off Regenerative Braking in Your Tesla?
It's not possible to turn off regen braking on a Tesla, and there's also no reason to turn it off. This system is beneficial to your car's battery, brakes, and overall efficiency. However, if you're in conditions such as cold weather or your car's battery is full and regenerative braking won't be as effective, you can limit the feature on certain models.
In your car's menu, simply go to Controls > Pedals & Steering and choose the Apply Brakes When Regenerative Braking Is Limited option to override regenerative braking. However, the ability to limit regen braking is only available on Tesla models released before Q2 of 2020.
Why Learning to Drive in a Tesla Gives You an Advantage
Anyone thinking of learning to drive a Tesla or an electric car knows that these types of vehicles come with their advantages. Teslas are built using the latest in driving technology, including safety features that can make driving easier and safer. For example, Tesla's Autopilot system enables the vehicle to drive itself in certain situations. There are also other features such as Automatic Emergency Braking and Lane Assist, which can help you prevent accidents, check your blind spots, and create a safer driving experience.
Aside from these safety benefits, driving an electric car means that you can save money by reducing how much you spend on fuel and have a more positive impact on the environment.
Driving Teslas with Driven2Drive
Whether you're a first-time driver or you already have experience on the road, learning to drive an electric car like a Tesla takes a bit of practice. Unlike a traditional car, Teslas and electric vehicles have a different operating system, which requires some theoretical and practical know-how before you can begin driving the vehicle.
That said, they're not difficult to drive by any means and are actually designed to give you a simpler and more seamless driving experience. While the operating systems might be different, the basic mechanics of driving a Tesla are very similar to driving a traditional car, there are just some features to get used to in order to make the most of your driving experience.
At Driven2Drive, we teach students of all levels how to operate and drive a Tesla, including how to use the regenerative braking system and other Tesla features. Whether you're looking at purchasing an electric vehicle or you simply want to expand your driving knowledge, Driven2Drive can help you gain the skills and confidence you need to make the most of driving a Tesla.
To Wrap Up
Regenerative braking is a great feature that allows electric cars to extend their range. When you're new to driving a Tesla, this feature can take a little time to get used to, but with some practice and an understanding of how the technology works, you'll find it easier, safer, and more efficient in the long run.
Book a driving lessons package to learn how to drive a Tesla
FAQs
Does regenerative braking use brake pads?
No, regenerative braking doesn't use brake pads, but instead uses an electric motor to convert kinetic energy into electrical energy and store it in the battery.
Do all Teslas have regenerative braking?
Yes, all Teslas have a regenerative braking system in order to help charge the battery and increase the car's range.
How effective is regenerative braking on Tesla?
Very! Some estimations note that regenerative braking enables Tesla drivers to recover up to 70% of the energy lost during braking, helping improve the car's efficiency and range.

Driven2Drive is a premier driving school and the leader in Driver's Education. From our dedicated team of instructors to our innovative state-of-the-art Driving & License Testing Centers, we are committed to instilling safe driving habits for life in a fun and interactive atmosphere. Experience the Driven2Drive difference at any of our conveniently located centers.