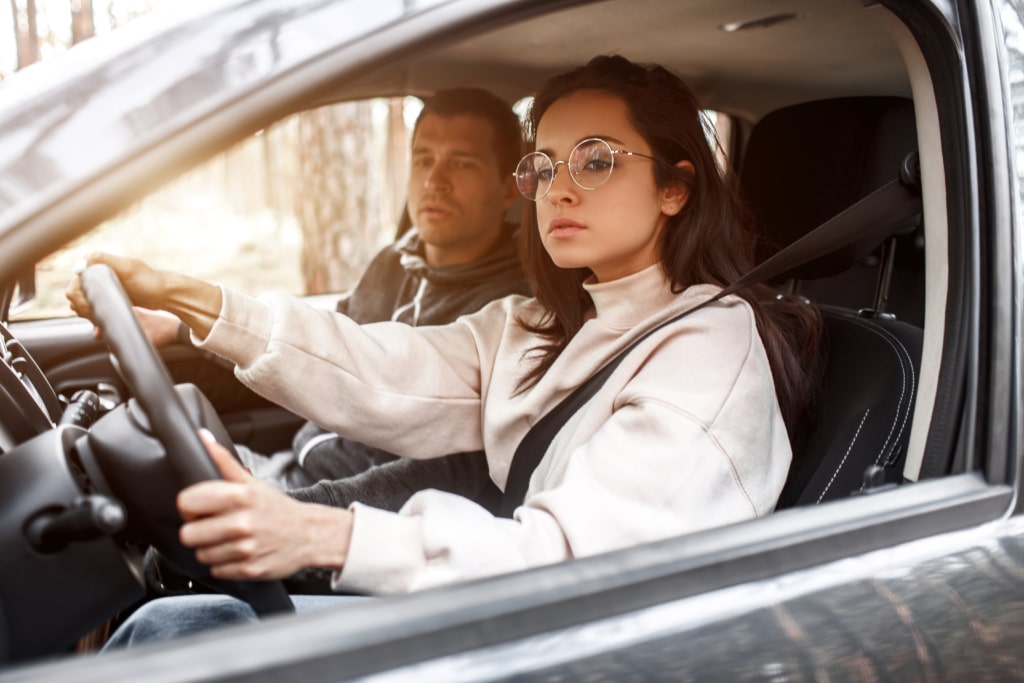 If you are on the journey to obtaining your driver's license, you've likely heard about driver's education, but what exactly is it, and what can you expect from driver's ed classes? For a new driver still learning the rules of the road, taking driver's ed classes can be extremely valuable. With guidance from a professional, friendly driving instructor, a student driver is more likely to feel at ease. In turn, investing in driver's ed can help a novice driver internalize crucial safe driving skills. If you are new to driving, you might be wondering what to expect in driver's ed class. Driven2Drive is here to answer some commonly asked questions about what driver's ed entails.
The Importance of Driver's Education
Driver's education isn't just a mandatory requirement for obtaining a driver's license; it's a critical step in becoming a responsible and safe driver. Here's why driver's education matters:
Safety First: Driver's education emphasizes safe driving practices, reducing the risk of accidents and injuries on the road.
Legal Requirement: In many states, completing driver's ed is a legal requirement for new drivers. It ensures that individuals understand the rules of the road before obtaining a license.
Confidence Building: Driver's ed helps build confidence in new drivers, making them better prepared to handle real-world driving situations with composure.
Insurance Savings: Some insurance companies offer discounts to drivers who have completed a driver's education program, leading to potential cost savings.
Reduction in Waiting Period: In certain states, completing driver's ed can reduce the waiting period for obtaining a driver's license, allowing individuals to get on the road sooner.
Defensive Driving Skills: Driver's ed teaches defensive driving techniques, helping drivers anticipate and respond to potential hazards effectively.
What is Covered in Drivers Ed Classes
Driver's education classes cover a wide range of topics to equip you with the knowledge and skills needed to drive safely. Some of the key areas covered include:
Traffic Laws: Understanding the rules of the road, traffic signs, and signals.
Defensive Driving: Learning defensive driving techniques to anticipate and react to potential hazards.
Vehicle Operation: Familiarize yourself with vehicle controls, handling, and maintenance.
Driver Behavior: Discussing the importance of responsible and attentive driving behavior.
Emergency Situations: Preparing for unexpected situations, such as accidents or breakdowns.
Benefits of Completing Driver Ed
Completing a driver's education program offers several advantages, including:
Enhanced Driving Skills: Driver's education equips students with practical driving skills and techniques, making them better, safer drivers.Safer Driving: You'll be better equipped to handle various driving situations safely.
Insurance Benefits: Some insurance companies offer discounts to drivers who have completed a driver's education program, which can lead to cost savings.
Faster License Acquisition: In some states, completing driver's ed can reduce the waiting period for obtaining a license.
Road Rules Mastery: Students gain a comprehensive understanding of traffic laws, road signs, and signals, reducing the likelihood of traffic violations.
Reduced Accident Risk: Graduates of driver's ed are less likely to be involved in accidents, as they have a strong foundation in safe driving practices.
Increased Confidence: Gaining confidence behind the wheel is a significant benefit, especially for new drivers.
Better Understanding of Vehicle Maintenance: Students learn basic vehicle maintenance, helping them keep their cars in good working condition.
Increased Knowledge of Road Hazards: Driver's ed educates students about potential road hazards and how to mitigate risks while driving.
Responsible Driving Habits: Graduates are more likely to adopt responsible and ethical driving behavior, contributing to overall road safety.
Now, let's take a closer look at what you can expect when you choose Driven2Drive for your driver's ed journey.
What to Expect at Driver's Ed with Driven2Drive
Driven2Drive is committed to providing a top-notch driver's education experience. Here's what sets them apart:
Interactive Learning: Engage in interactive lessons that make learning enjoyable and effective.
Experienced Instructors: Benefit from experienced and certified driving instructors who are dedicated to your success.
Convenient Scheduling: Flexible scheduling options to fit your busy lifestyle.
Behind-the-Wheel Training: Receive hands-on, behind-the-wheel training to develop practical skills.
Positive Learning Environment: Experience a positive and encouraging atmosphere that fosters confidence.
Comprehensive Curriculum: Cover all the essential topics you need to become a safe and responsible driver.
Common Questions from Driven2Drive Driving Students:
Students who come to Driven2Drive for driving lessons can anticipate a highly educational yet enjoyable experience. Here are a few important things to know:
What should I bring? Be sure to arrive at your driving session with your PA driver's permit, dressed in comfortable clothing. You may also wish to bring along a bottle of water to stay hydrated while you drive.
Will I drive a manual or automatic vehicle? That's up to you! Driven2Drive offers courses on both types of driving, although we recommend manual transmission driving lessons for every student. Either way, you'll work on developing safe driving skills in one of our clean & well-maintained Teslas and MINI Coopers.
Can I take my test with Driven2Drive? Absolutely! We are a PennDOT-certified third-party testing center, which means you can take your permit or license test at any of our six convenient locations throughout Greater Philadelphia. Many of our packages include a road test examination already – or, you can add this service on!
What if I'm not ready to drive? It's totally normal to be nervous about getting behind the wheel. If you're not quite at the point where you feel comfortable driving, you can take our driver's ed theory course or schedule a permit prep session to help you get fully prepared.
What Are Students Saying About Driven2Drive?
Hopefully, the information above has given you a clear idea of what to expect in driver's ed class. Here at Driven2Drive driving school in PA, we've helped hundreds of students achieve their goal of becoming a safe driver and getting licensed. Here's what Vaughn M. had to say about us:
"I went to this school being terrified of making turns and parking, but all that changed when I enrolled here. The quality they provide is unmatched. I've been to three driving schools and guess what… I GOT MY LICENSE at Driven2Drive!!!! Special thanks to my instructor Brian and my proctor Abby – THEY ARE THE BEST!!!"
As you can see, we are dedicated to making sure every driving student feels comfortable and confident so they can succeed behind the wheel. If you are ready to get on the road, call Driven2Drive at 610-664-7400 to get scheduled in as little as two days!
Additional FAQs
What can I do to prepare for driver's education?
Preparing for driver's education can help you get the most out of the program. Here are some steps you can take:
Familiarize Yourself with Traffic Laws: Start by learning the basic traffic laws and rules of the road in your state. This will give you a foundation to build upon during your driver's ed classes.
Study the Driver's Manual: Most states provide a driver's manual that covers essential information for new drivers. Reviewing this manual can be a valuable pre-course activity.
Practice Permit Tests: Many states offer online practice permit tests. Taking these practice tests can help you assess your knowledge and identify areas where you might need more study.
Get Comfortable with Vehicle Controls: If possible, spend some time getting familiar with the controls of a vehicle, including the steering wheel, pedals, and dashboard.
Understand the Basics of Defensive Driving: Defensive driving is a key component of driver's education. Begin to think about safe driving practices and the importance of being aware of your surroundings while driving.
How do I choose the right driver's ed program?

Choosing the right driver's ed program is crucial for a positive learning experience. Here are some factors to consider:
Accreditation: Ensure that the program is accredited and approved by your state's Department of Motor Vehicles (DMV) or equivalent authority.
Instructor Qualifications: Check the qualifications and experience of the driving instructors. Experienced instructors can make a significant difference in your learning.
Curriculum: Review the curriculum to see if it covers all the essential topics required for safe driving.
Class Format: Consider whether you prefer in-person classes, online courses, or a combination of both.
Scheduling Options: Check if the program offers flexible scheduling options that fit your availability.
Reviews and Recommendations: Look for reviews and recommendations from previous students to gauge the program's reputation.
What should I bring to driver's ed?
When attending driver's education, it's a good idea to bring the following items:
Identification: Bring a form of identification, such as your learner's permit or state ID.
Note-Taking Materials: Carry a notebook and pen or a laptop/tablet for taking notes during classroom instruction.
Payment and Registration Information: If you haven't already paid for the course, bring the necessary payment and registration documents.
Snacks and Water: Depending on the duration of the classes, you may want to have some snacks and water on hand to stay refreshed.
Comfortable Clothing: Wear comfortable clothing and shoes suitable for both classroom and practical sessions.
Any Required Paperwork: If the program requires you to fill out any forms or paperwork, make sure to bring those documents.
Is driver's education mandatory in my state?
Driver's education requirements vary by state, so it's essential to check with your state's DMV or equivalent authority. In some states, driver's education is mandatory for new drivers, while in others, it may be optional.
What are the requirements to enroll in driver's education?
The specific requirements for enrolling in driver's education can vary by state and program. Generally, you'll need to meet the following criteria:
Be of a certain age (often around 15 or 16)
Hold a learner's permit or equivalent document
Meet any age or residency requirements set by your state
Check with your chosen driver's ed program and your state's DMV for precise eligibility criteria.
What are the benefits of taking a driver's education?
Gaining a solid understanding of traffic laws and safe driving practices.
Developing practical driving skills through hands-on training.
Boosting confidence behind the wheel.
Potentially qualifying for insurance discounts.
Reducing the waiting period for obtaining a driver's license in some states.
Learning defensive driving techniques to handle challenging situations.
What is the role of classroom instruction in driver's ed?
Classroom instruction in driver's education serves several important purposes:
It provides a structured environment for learning essential traffic laws, rules, and regulations.
It covers theoretical aspects of driving, such as road signs, signals, and safety guidelines.
Classroom sessions offer opportunities for group discussions, questions, and clarification of concepts.
It lays the foundation for safe driving practices before students get behind the wheel for practical training.
Classroom instruction complements hands-on driving experience to create well-rounded and responsible drivers.

Driven2Drive is a premier driving school and the leader in Driver's Education. From our dedicated team of instructors to our innovative state-of-the-art Driving & License Testing Centers, we are committed to instilling safe driving habits for life in a fun and interactive atmosphere. Experience the Driven2Drive difference at any of our conveniently located centers.