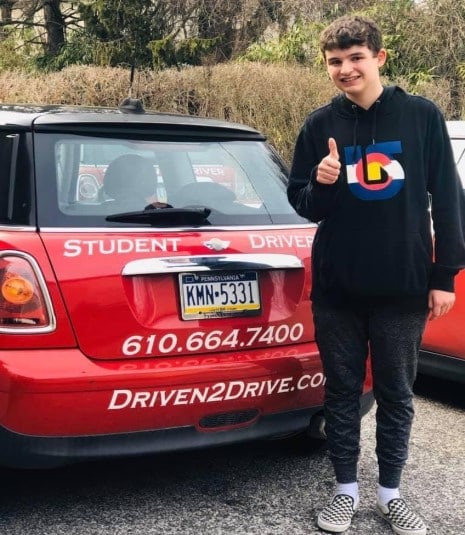 Getting your driver's license opens the door to a world of new and exciting opportunities. But before venturing out on your own, it's vital to learn how to drive in a manner that prioritizes accident prevention and safety. When seeking the premier provider of drivers ed, Philadelphia driving students of all ages and experience levels look to Driven2Drive.
Drivers Ed Philadelphia: Classes, Testing & More
At Driven2Drive, our highly qualified instructors are committed to teaching the principles of defensive driving and safe driving techniques which will stick for life. We offer several different packages to meet the needs of each and every student. Whether you choose to take a single two-hour driving lesson or multiple sessions, you can rest assured that we will make you feel comfortable and confident behind the wheel.
Once you feel ready to take your road test, we'll help you conquer that, too! Driven2Drive is the first PennDOT Certified Third Party Driver's License Testing Center in PA. When you opt to take your test with us, we guarantee that your experience will be positive. You'll complete your test in one of our MINI Coopers, with an instructor who makes you feel at ease while setting you up for success.
The safety and satisfaction of our students is our top priority. Thus, our testing philosophy is based on the following principles:
Ethics & Integrity
Objectivity & Fairness
Customer Service
What Are Students Saying About Driven2Drive?
Learning to drive safely is absolutely crucial – to protect yourself and everyone else on the road. Thus, you want to make sure you choose an experienced instructor for drivers ed in Philadelphia. This testimonial from Joseph A. demonstrates why you can confident in selecting Driven2Drive for driving lessons and testing:
"I'm a very late bloomer on getting my license. The instructor, he was amazing. My nerves were shot and he made me feel comfortable – was still a little nervous, but again thanks to him, a much lesser level than I would have been. Everyone was very serious about what they do, however it was in a very laid-back, go-with-the-flow way if that makes any sense. This place is amazing and I for sure will recommend them to anyone. It was worth every penny I paid for their services. If there is a standard on how to do things, this company far exceeded the expectations. Thank you, Driven2Drive."
Drivers Ed Philadelphia: Let Us Help Steer You to Safe Driving
While many PennDOT locations in and around Philadelphia remain closed due to the COVID-19 pandemic, Driven2Drive is still offering testing services at our Northeast Philadelphia location. We remain committed to serving you during this time, as we understand that getting licensed can be an urgent need for our students.
While we eagerly await the day when we can safely reopen all of our locations, give us a call at 610-664-7400 to learn more about how our driving school can help you or your child master the art of safe driving. We look forward to hearing from you!