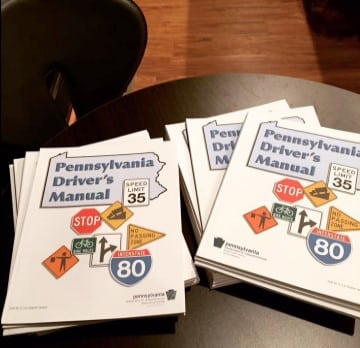 Getting your PA learner's permit is the first to-do list item on the journey to earning your license and unlocking a world of independence! As you prep for permit test day, you may be wondering what steps you should be taking to boost your chances of passing with flying colors. Driven2Drive, PA's first PennDOT-certified third-party permit & license testing center, is here to share a few tips.
How to Prep for Permit Test & Pass | Pro Tips from Driven2Drive
Looking for some advice on how to ace your permit test on the first try? Follow these steps, and you'll be virtually guaranteed to succeed!
Acquire a PA Driver's Manual – The questions on the PA permit test are all based on the PA Driver's Manual. So, your first order of business is to get a copy of the manual! You can request a FREE DMV manual from Driven2Drive by visiting our website or calling us at 610-664-7400.
Get studying – To prime yourself for the written permit test and eventually become a safe driver, it's vital to master all the concepts outlined in the PA Driver's Manual. So, you'll want to set aside plenty of time to study the manual in depth.
Enroll in a class designed to help you prep for permit test – Many students find it beneficial to take a permit prep course to supplement their own studying. Driven2Drive offers an hour-long class in which our knowledgeable instructors cover key driving concepts in detail, plus answer any questions you may have. Students may take this course one-on-one or in a group setting – whichever is best suited to their personal learning style!
Get Your Learner's Permit Quickly & Easily at Driven2Drive
Once you feel well prepared, it's time to schedule your permit test! Driven2Drive offers the most flexible scheduling you'll find anywhere, with license & permit test appointments typically available in as little as two days. And with six locations scattered throughout Greater Philadelphia, we strive to make the process of getting your permit totally convenient and free of stress. No wonder so many students say they much prefer us over the DMV!
Whether you're just beginning the journey to getting your PA permit & license, or you're ready to take your road test ASAP, count on Driven2Drive to provide a positive experience and outstanding customer service. Give us a call today at 610-664-7400 to get scheduled for streamlined permit/license testing or comprehensive driving lessons!