Winter driving can be a source of concern for parents of teen drivers. As the winter season approaches, parents want to ensure their young drivers are well-prepared to handle the challenges of driving in cold, snowy, and icy conditions. In this comprehensive guide, we'll provide expert insights and tips tailored to parents who are eager to equip their teen drivers with the knowledge and skills needed to navigate winter roads safely.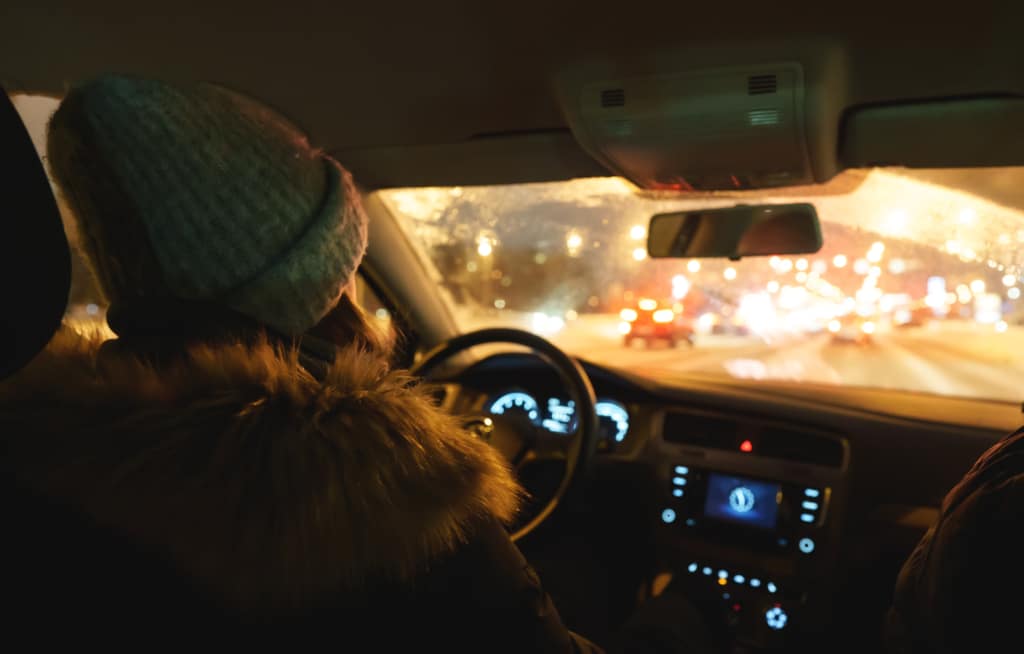 The Importance of Winter Driving Safety for Teenagers
Teenagers often lack the experience needed to handle the unique challenges posed by winter driving. Slippery roads, reduced visibility, and unpredictable weather conditions can make driving treacherous. It's crucial to emphasize the importance of winter driving safety to your teen and instill responsible driving habits from the start.
Common Winter Driving Challenges Faced by Teen Drivers
1. Snow and Ice
Tip: Teach your teen the importance of gentle braking and steering to avoid skidding on icy roads. Encourage teen drivers to reduce their speed in winter conditions. Snow and ice can significantly reduce traction, making it more difficult to stop or maneuver the vehicle.
2. Reduced Visibility
Tip: Ensure your teen knows to keep a safe following distance and use headlights in low-visibility conditions. It takes longer to stop on slippery roads, so maintaining a buffer between vehicles is crucial.
3. Inexperienced Decision-Making
Tip: Encourage your teen to make conservative decisions like slowing down and avoiding risky maneuvers during winter weather. Advise teen drivers to check weather and road conditions before heading out. Encourage them to stay updated on weather forecasts and road closures.
Expert Tips for Parents to Prepare Teenagers for Winter Driving
At Driven2Drive, we understand the significance of teen driving safety during the winter months. Our specialized training equips young drivers with the skills and knowledge they need to handle winter road challenges effectively. Here are additional tips to consider:
1. Winter Driving Education
Tip: Enroll your teen in a winter driving safety course to gain hands-on experience in handling winter road conditions.
2. Proper Vehicle Maintenance: Stress the importance of regular vehicle maintenance. Teens should ensure that brakes, lights, windshield wipers, and heating systems are in optimal working condition.
3. Emergency Kit: Teach teens to assemble an emergency kit for their vehicles. This kit should include essentials like blankets, flashlights, extra clothing, a first aid kit, and non-perishable food items.
4. Practice Safe Maneuvers: Encourage teens to practice safe maneuvers in a controlled environment, such as a snowy or icy parking lot. Practicing in a controlled environment allows them to become familiar with how their vehicle responds in adverse conditions.
5. Avoid Distractions: Remind teen drivers to avoid distractions, such as texting or adjusting the radio, while driving in winter weather. Their full attention should be on the road.
6. Stay Home: If you don't need to drive, don't.
Essential Winter Driving Safety Equipment for Teen Drivers
To keep your teenage driver safe during winter conditions, make sure they have the following equipment in their vehicle:
Snow chains or winter tires for improved traction.
An ice scraper and snowbrush to maintain visibility.
Jumper cables for potential battery issues.
A shovel to dig out of snow if necessary.
Kitty litter or sand for added traction on icy surfaces.
Deice and make sure the show is removed from your vehicle so it doesn't fly on other cars.
Tips for Safe Driving in Pennsylvania
Pennsylvania's unique driving conditions require specific precautions to ensure a safe and pleasant journey. Whether you're a resident or just passing through, it's essential to be aware of the following driving tips tailored to the state:
Watch for Deer: In rural areas of Pennsylvania, deer can be a significant road hazard. Drive cautiously, especially in wooded areas.
Weather Awareness: Be prepared for rapidly changing weather conditions, especially as fall transitions into winter. Carry essentials like an ice scraper and blankets.
Mind the Hills: Pennsylvania's hilly terrain can create blind spots and unique driving challenges. Use your brakes wisely and stay within the speed limit.
By following these Pennsylvania-specific driving safety tips, you'll be better prepared to handle the unique challenges of the state's roads. Remember, staying informed and cautious is key to ensuring a safe and enjoyable driving experience.
Driving Safety with Driven2Drive
At Driven2Drive, our unwavering commitment revolves around the promotion of safe driving practices, not just seasonally, but throughout the entire year. Our dedicated team of experts is here to ensure you have access to the knowledge and resources necessary to keep yourself and your loved ones safe while on the road. We understand that safety is a top priority for every driver, and it should never be compromised. That's why we go the extra mile to provide you with reliable guidance and support, whether you're a new driver embarking on your journey or an experienced one looking to refresh your knowledge. You can trust Driven2Drive as your go-to source for all things related to safe driving, empowering you with the tools and information you need to make every trip a secure and worry-free one. Remember, when it comes to driving, safety always comes first, and Driven2Drive is here to help you make it your top priority every time you hit the road.
FAQS
What are the top winter driving safety concerns for teen drivers?

Teen drivers often struggle with reduced visibility, maintaining control on slippery roads, and reacting to unexpected situations during winter driving.
How can I prepare my teen's vehicle for winter driving?
Ensure the vehicle has winter tires, a well-maintained braking system, an emergency kit, and the necessary fluids (e.g., antifreeze) to withstand cold temperatures.
Are there specific winter driving tips that apply to young drivers?
Yes, young drivers benefit from professional training, which equips them with the skills needed to navigate winter roads safely.
What should teen drivers do in case of icy road conditions?
Teens should reduce their speed, increase following distance, and avoid sudden movements like sharp turns or hard braking on icy roads.
Related Resources:

Driven2Drive is a premier driving school and the leader in Driver's Education. From our dedicated team of instructors to our innovative state-of-the-art Driving & License Testing Centers, we are committed to instilling safe driving habits for life in a fun and interactive atmosphere. Experience the Driven2Drive difference at any of our conveniently located centers.